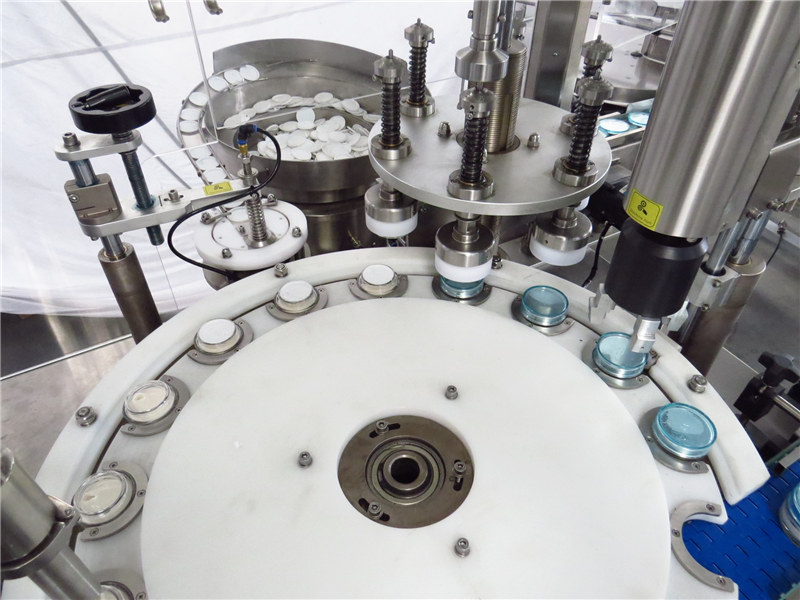 Cream filling and capping machine integrates electric and pneumatic functions into one, with reasonable design, stable performance, accurate quantity, glass table surface, automatic bottle feeding, steady operation without noise, electric speed control to the filling speed and filling volume and convenient maintenance and cleaning. The new type filling equipment is the best choice for the realization of automatic production.
Automatic Cream Filling And Capping Machine
This machine has the functions such as automatical screw type bottle feeding, bottle detecting (no bottle no filling, no bottle no cap feeding ), filling, cap feeding and capping automatically.
It functions as bottle unscrambling, filling, foil sealing, cap screwing,labeling and collecting etc.
Four-head electronic scale, to guarantee high filling accuracy.
Modularized control system, Easy to Maintain, low cost.
Panel microsoft can be updated by USB.
Online cleaning function is optional.
Filling volume: 1~250ml
Filling speed: 40bottles/min
Filling precision: ≥99%
Finished product rate of cap drop: ≥99%
Main machine power: 1KW 220V stepless shift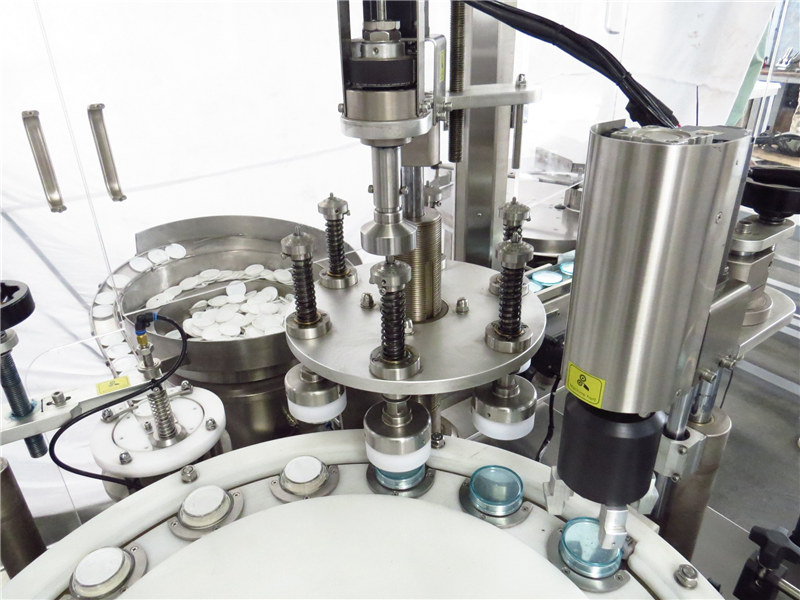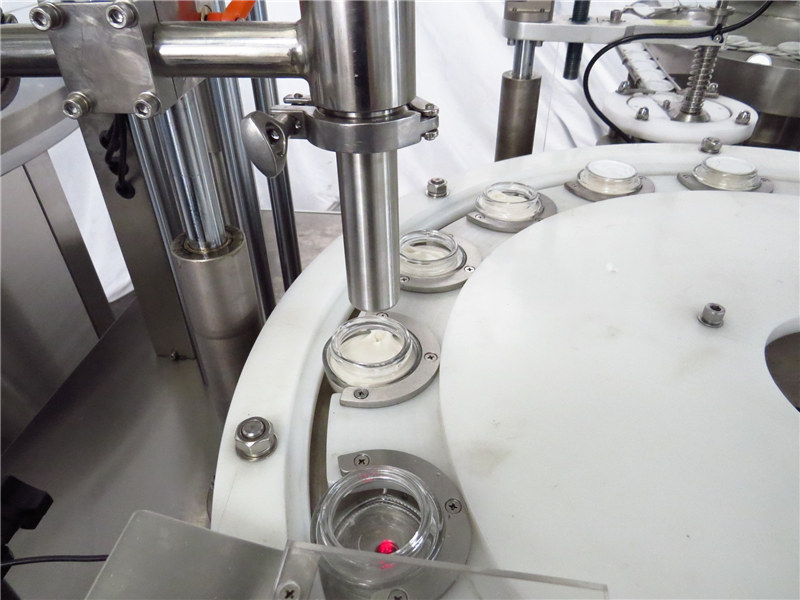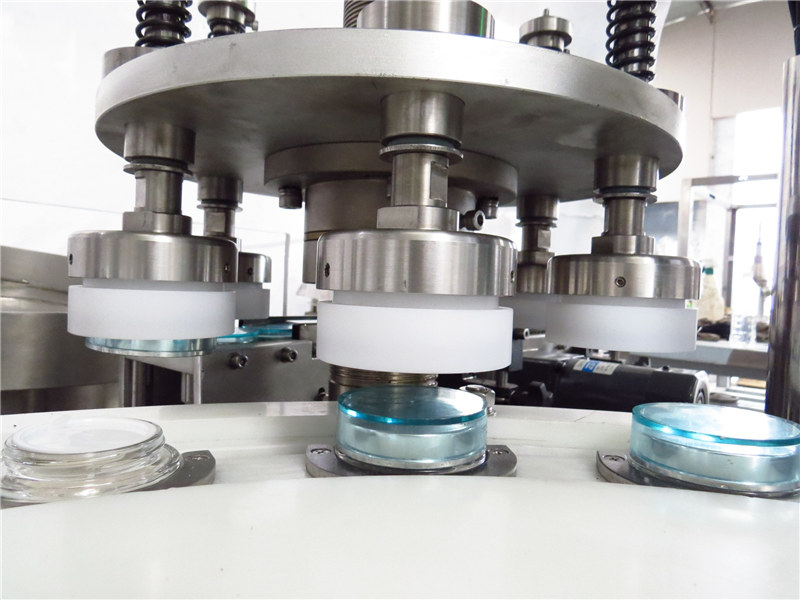 Application
This machine can be used in cosmetics, light industry (daily-use chemical industry), pharmaceutical industry and food, etc. For those enterprises choosing the plastic bottles or glass bottles as packaging container, this machine can fill the facial cream, grease, emulsifiable paste, gel or viscous fluids into bottle for capping and screwing, and finally output the finished product. The working process can be divided to five main parts: bottle entering the rotary plate, automatic lifting to fill material, automatic capping, servo screwing and bottle discharging.
Bottle entering way: operators put the empty bottles on the turntable, as with the table rotating and the weight of bottles themselves, they will be sent to the conveying belt.
Bottle detecting device: the photoelectric sensor will detect if there is any position lacking of bottle on the turntable, and send the detection signal to computer to control material filling (has bottle) or not (no bottle).
Filling device: if it's detected with bottle in front station, PLC control the filling mouth entering the bottle to fill material; if no bottle, there will be no filling.
Capping device: arrange the caps automatically through vibration plate or elevator. With vacuum taking caps to cap on the bottle, it's more efficient and stable.
Servo screwing: if there is cap detected, the servo motor will control the twisting force and rotating speed to ensure that the cap is screwed up with same tightness.
Bottle discharge: the well-screwed bottles will be discharged and transmitted to the next procedure.
A wide variety of options are available for non food viscous products. Product characters may dertermin which equipment types may be better suited to your particular project needs. If you have a viscous non food product then this is the section for you.
Lotion, sun screen, hand cream, conditioners, facial masks, mud masks, wax and any other medium to heavy viscous products, including those with particulates.
Our VKPAK sales engineers know the liquid packaging industry. We are proud to offer our clients a wide variety of filling machines. We offer everything you need to fill lotions and viscous nonfood products. Your product characteristics determine the filling technology that VKPAK will recommend for your production line. A small list of the products that we have successfully filled is as follows: lotion, sunscreen, hand cream, conditioners, facial masks, mud masks, wax, and any other medium to heavy viscous products, including those with particulates. Our equipment is manufactured to the strictest quality standards in sanitary conditions that ensure we deliver the best possible filling machines to our valued customers.
Viscous Nonfood Filling Technology Choices
VKPAK filling machine technologies available to fill a container with a specified quantity of product are piston, metered flow, fill to level, and timed flow. Piston fillers are well suited for heavier lotions and creams. Positive displacement pump fillers are noted for accurate and repeatable fills and work well with thicker products. Timed flow fillers are less complicated and, therefore, more economical with consistently accurate doses. Fill to level or overflow fillers make filled bottles appear to be filled to the same level on the retail shelf.
Completing a Cream bottling Line
You will also need a cap orienter, capper, and labeler after the juice filling machine. Conveyors and turntables that move containers between machines are also needed. VKPAK manufactures several different model machines for each function, providing our customers with the best solution for packaging their products. All contact surfaces are 304 or 316 stainless steel, making our machines corrosion resistant and easy to sanitize.
VKPAK is a one-stop-shop supplying our customers with a complete packaging line, installation, and service with a single purchase order. We supply liquid filling machines for lotion, water, juice, beverage, dairy, brewing, distilled spirits, wine, pharmaceutical, nutritional, industrial cleaners, household products, and chemical industries. Every component of the complete packaging line is rigorously tested during the line integration process.
Contact your VKPAK sales engineer to help you choose the best Accutek liquid filler for your lotion products. Combining our products and services can help make your bottling process more profitable in the coming years.