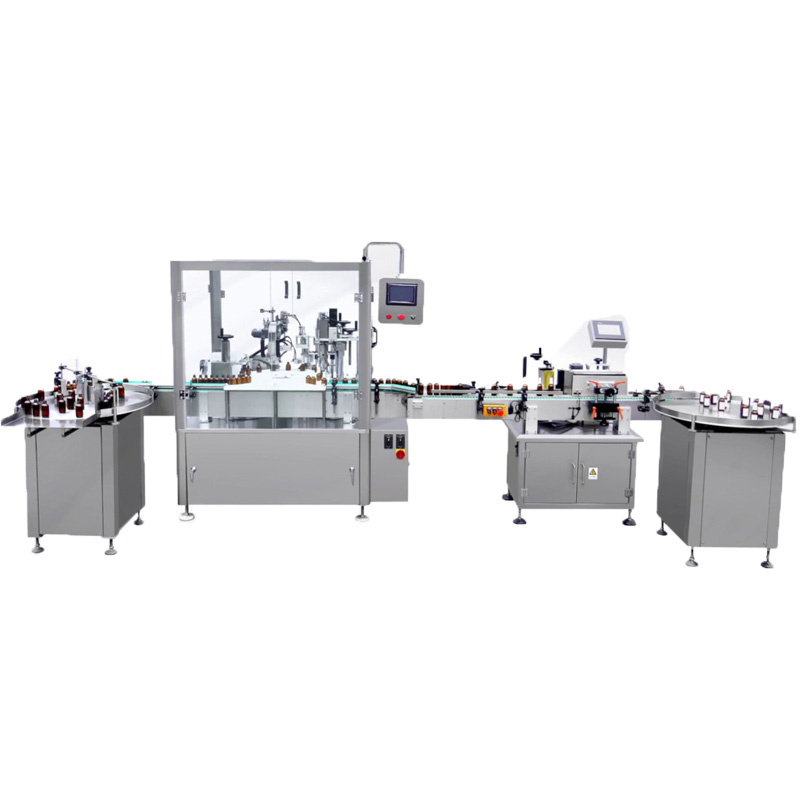 Essential oil filling machine gathers mechanical, pneumatic, automatic as one unity. Great features such as high automatization and high yield, widely using, good stability make this model more popular.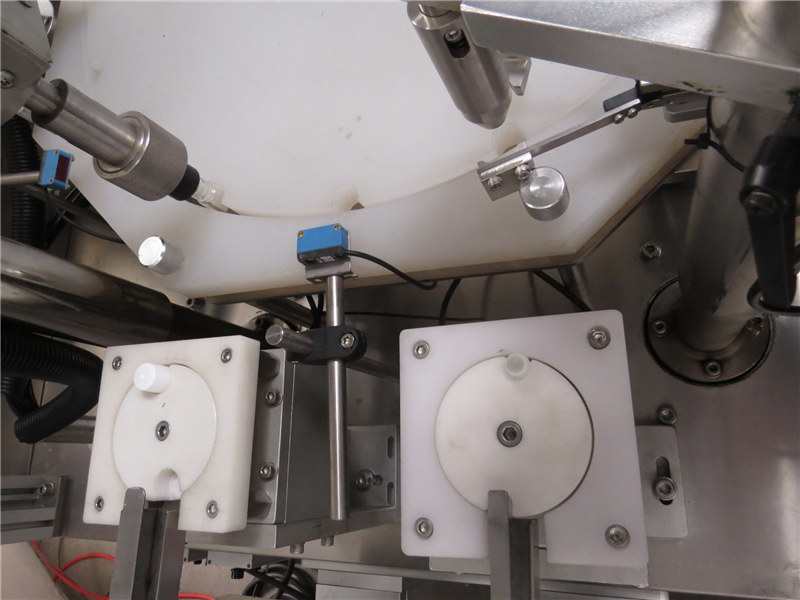 Features:
Automatic bottle transit, automatic bottle detecting(No bottle, no filling) and filling, and automatic cap setting and capping. It's quite suitable for high error materials .Comparing with oversea products, this one is more competitive:
It is applied for low dose liquid and oil filling, such as shampoo(for hotel), electronic cigarette, eyedrop etc.
Functions:automatic bottle arranging, filling, plugging, cap screwing, labeling. It is equipped with automatic internal plug arranging and external cap pluging testing which enables non-external pluging without internal plug and elimination of non-external plug.
The labeling adopts belt rolling structure with fast rolling structure and 8-D adjustment of angle label, which realizes the labeling of two symmetric labels or high-precision labeling.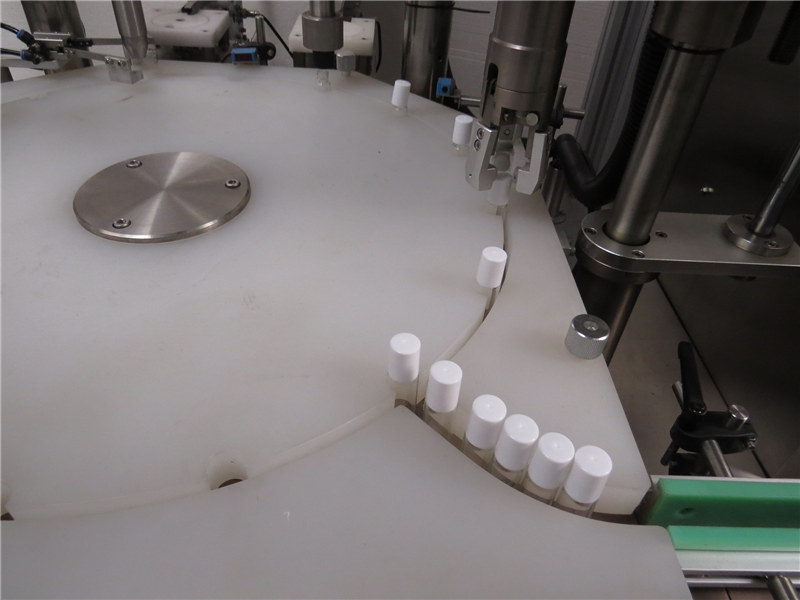 Bottle corking machines provide a closure system for cork-type capping needs for products such as distilled spirits, wine, olive oil and more. The standard automatic bottle corker will include a delivery system that will set corks in the bottle. Once in place, the corks will be tamped down securely to seal the bottles. Automatic bottle corkers will work with almost any power conveyor system.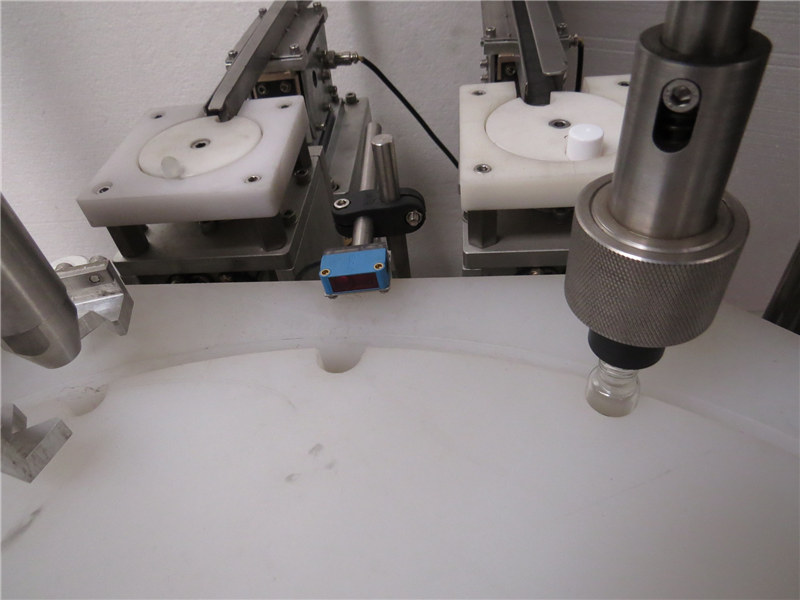 Main Parameter:
| | | |
| --- | --- | --- |
| Filling volume | Ml | 5-50 |
| Production capacity | Bottle/h | 1500-3000 |
| Quantitative error | % | ≤±1% |
| Cap feeding rate | % | ≥99% |
| Capping rate | % | ≥99% |
| Source voltage | V | Three-phase four-wire system AC220V 380V ±10% |
| Consumed power | KW | 1 |
| Gas supply pressure | MPA | 0.4-0.6 |
| Air consumption | M3/min | 0.2 |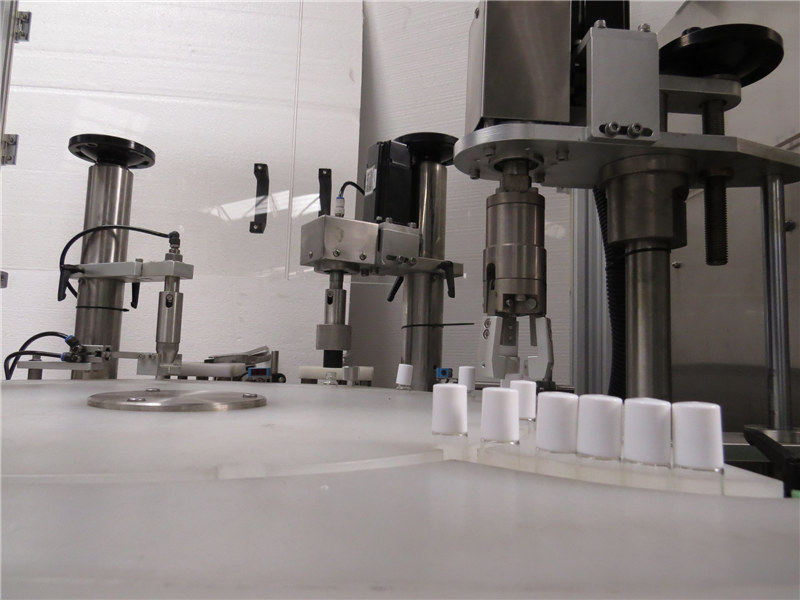 VKPAK has been designing and manufacturing labeling and filling machines as well as complete packaging lines for essential oil producers (lavender essential oil, arvensis mint, eucalypthus, lemon, orange, sage, ravintsara, ylang-ylang, rosewood…) for nearly 30 years. Adhesive labeling machine specially adapted to small vials, essential oil filler or complete packaging line including essential oils' filling, hydrolats or floral waters, screwing of dropper caps and pipette tip, and labeling of glass or PET vials… CDA offers essential oils' multiple packaging options for 10mL, 15mL, 20mL, 30mL bottles, etc. The smallest distillers and essential oil producers will benefit from our semi-automatic solutions when the largest cooperatives, distillers and natural materials laboratories will enjoy our automatic machines and complete packaging lines.
Perfumes and Essential Oil products often requre equipment that can deliver product in a low dose with a visually appealing fill level. Fortunatly VKPAK offers multiple solutions for small, meduim, and large dose projects and can accomdate a wide range of container types. If you a filling perfumes or essential oils in either standard to specialty containers then this is the section for you.
VKPAK offers multiple filling machine solutions for perfumes, essential oils, and various cosmetic products. These types of products are challenging because of the smaller dose sizes and designer bottles. Perfume, cologne, essential oils, light makeup remover, massage oils, intimate oils, nail polish removers, dye, and other similar viscosity cosmetic products are examples of products handled by VKPAK filling machines.
Our VKPAK sales engineers know the liquid packaging industry. We are proud to offer our clients a wide variety of different cosmetic bottling equipment. We offer everything you need for a packaging line. Our equipment is manufactured to the strictest quality standards in sanitary conditions that ensure we deliver the best possible products to our valued customers. The equipment we offer our clients is ideal for filling a variety of liquids from water thin to highly viscous products. Call for a quote no matter your packaging challenges.