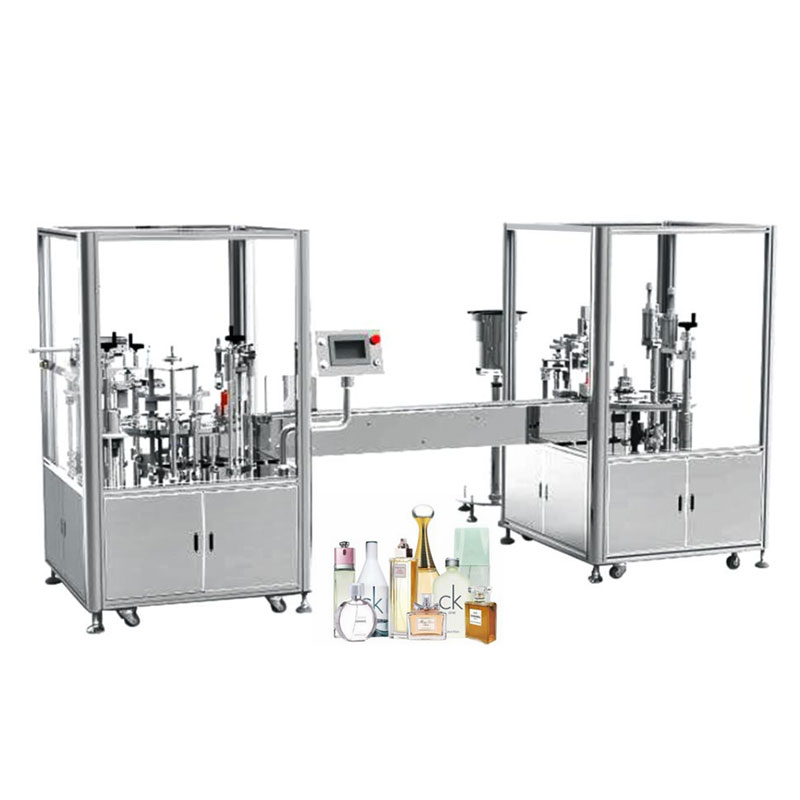 Automatic low vacuum filling, auto bottle detecting (no bottle no filling), filling for three times,auto dropping of spray head cap, circulation of perfume bottles' die set, it is wide adaptability which can meet to the requirements of different dimension and filling volume of containers.
It is equiped with air cleaning for bottles, quantitive filling, negative pressure filling, pump placing , lid rolling, jacket placing ,capping,rejecting, labeling and end product collecting etc.
Moulds move in circles, easy to change bottles;Stepping motor for quantitive filling, fast to adjust filling volume;Negative pressure device is used to fill in the same liquid level;Manipulator for pump placing and pre-rolling is applied to increase pump rolling rate;
Elastic rolling head is to avoid the bottle body from damage.
Machine Specification
Filling volume: 5~120ml
Filling speed: 30-50bottle/min
Filling accuracy: ≤±1%
Finish products rate of cap dropping and locking: ≥99%
Main machine power: 1KW 220/380 V frequency control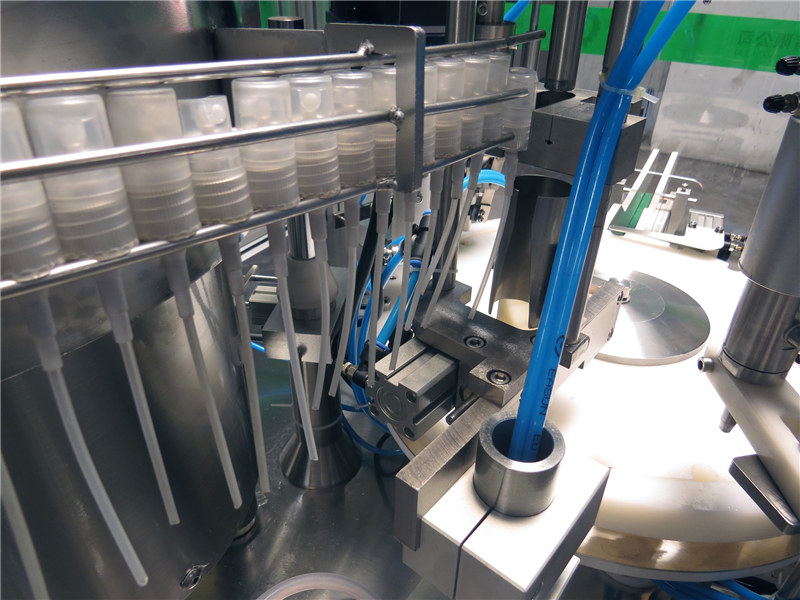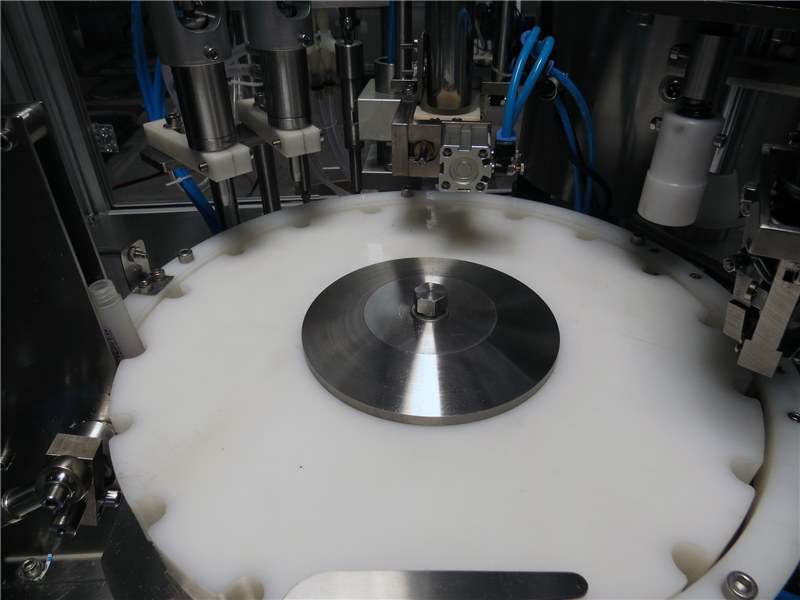 Perfume filling capping machine rotary cosmetics packing machinery filler crimper collar máquina de llenado líquido designed and manufactured by our engineer team in cosmetic&food&pharma making and packaging machinery is widely used in the daily chemical industry like cosmetic liquid filling and such like.We as a famous manufacturer moreover can design and produce the packaging machine according to the special requirements from customers.
The perfume filling and capping machine with functions of automatic filling, pump-caps dropping and capping. Bottle conveyor adopts circulatory bottle mould to fit different-shaped bottles.Widely used in cosmetic, pharmaceutical and other industries pump-cap glass bottle packing.
Perfume filling crimping collaring equipment with vacuum cleaning system is an automatic 12 station perfume filling and crimping machine, adopting PLC programmable control. The compact structure and flexible working mode meet different production requirement. Its automatic vacuum cleaner can absorb the tiny particles and impurities. Filling device includes rapid filling pumps and level filling nozzle which guarantee high production and accurate filling volume. Pump head crimping group automatically fits pump head (insertion of micro pump in the bottle), precrimps (to center and temporarily fix the micro pump) and crimps. Automatic collar fitting device with high accuracy, coordinating with automatic collar pressing device achieves high automation degree.
Material contact parts are made of 316L stainless steel, PTFE and medical silicone rubber.Optional stainless steel plunger metering pumps or high-precision ceramic plunger metering pumps, servo motor drive, just set the loaded amount on the touch screen, each plunger metering pump to do the fine adjustment.Germany's Siemens HMI and PLC, the program automatically control and stable operation.Pneumatic components of Germany FESTO and Taiwan AirTAC brandBottle positioning system to ensure precise positioning of the bottle.
The anti-drip filling head, effectively prevent the product drip and wire drawing.Robot Jianei Se and outside cover, stable and reliable.Torque capping devices, precise control of the capping torque, to avoid wear on the cap. Can replace the capping head to accommodate different cap sizes.With no bottle detection can be achieved no bottle no filling, no cap.