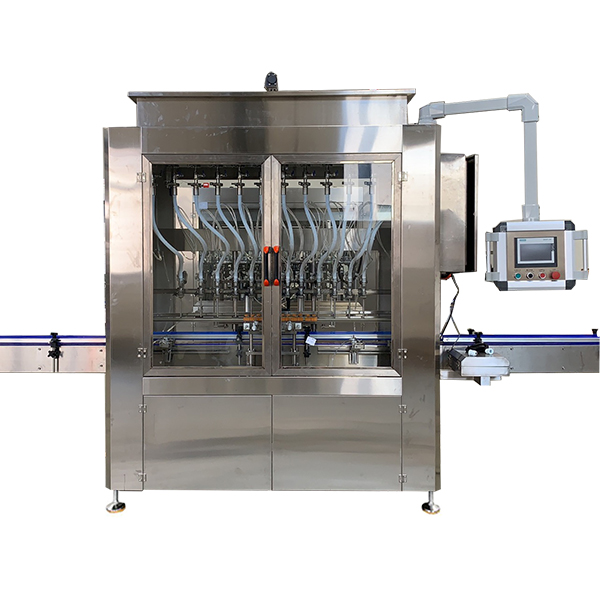 Gravity Fillers provide volumetric time based filling solutions. An elevated tank on this bottle filler holds product until containers are in place under the fill nozzles. The fill tubes or nozzles then open and release product for a pre-set amount of time. Each fill head can be individually timed to allow for an accurate volumetric fill for each bottle. Gravity filling machines, both automatic and semi-automatic liquid fillers, are best suited for free-flowing, low viscosity products like water and ink. Special nozzles for gravity fillers can also be used help prevent drips and control foaming with some products.
It is economical filling machine for filling product like glass cleaner, wine, vinegar , water, juice etc in foodstuff, cosmetic and daily chemical industries.
Brief Introduction:
This Filling Machine is gravity type filling machine which is suitable for filling thin fluid.
The machine is made by in-line structure , filling head quantity can be custom-made according to different production capacity such as 6/8/10/12/16 /20 heads.
The filling volume is controlled by filling time, with weight feedback of each filling nozzle to PLC to assure good filling accuracy.
It is economical filling machine for filling product like glass cleaner, wine, vinegar , water, juice etc in foodstuff, cosmetic and daily chemical industries.
Features:
Made by high quality 304 Stainless steel, it is durable.
316 stainless steel product contact parts is available for optional according to product features.
Flexible machine for filling 100-5000ml
Liquid receive tray is available in case any dripping from filling nozzle.
Diving filling head is available for optional for filling foamy liquid.
No bottle no fill.
Controlled by PLC and operation through touch screen.
Easy change over to different size bottles.
Quick-install connecting parts , it is easy to disassemble and clear machine.
Main Parameter:
Nozzle Number
PCS
6
8
10
12
Filling volume
Ml
100-5000
Production capacity
Bottle/h
1000-3000pcs(Depends on filling volume)
Quantitative error
%
100-1000ml:≤±2% , 1000-5000ml:≤±1%
Voltage
V
AC220V 380V ±10%
Consumed power
KW
1.5
1.5
1.5
1.5
Air pressure
MPA
0.6-0.8Mpa
Air consumption
M3/min
0.8
1
1.2
1.2
How It Works:
The product bulk supply is pumped into a holding tank above a set of pneumatically operated valves. Each valve is independently timed by the filler's master computer so that precise amounts of liquid will flow by gravity into the container. Gravity fillers built with bottom up fill capability can handle a wide range of flowable liquids including foamy products.
Application:
This type of filler is best suited for liquids with very thin viscosities that do not change with ambient temperature or with batch variation. This machine is also suited for applications where recirculation of the liquid in the fluid path is not desireable. Although this type of filler is used predominantly on products that do not foam, foam may be limited and controlled by subsurface/bottom-up-fill capability.
Examples:
Water, solvents, alcohol, specialty chemicals, paint, inks, corrosive chemicals i.e. acids and bleach.
Advantages:
This is the most economical type of filling machine for a limited range of applications. It is especially well suited for corrosive chemicals.