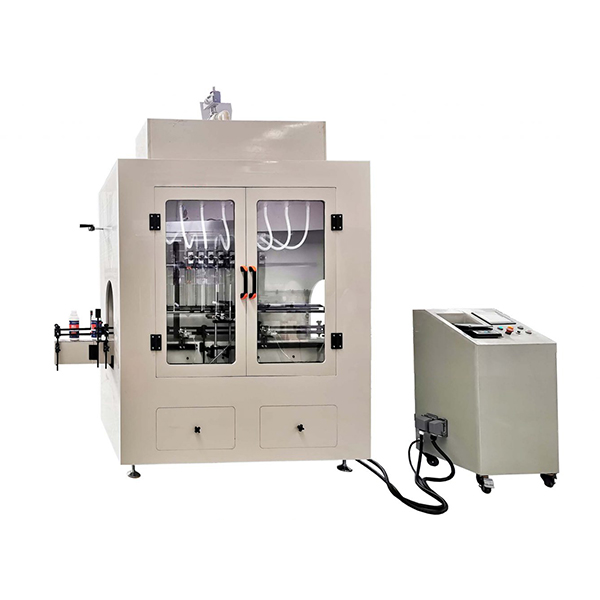 The VKPAK Automatic Corrosive Filler is a specially designed timed flow volumetric filler for use in environments where caustic liquids and gasses cause accelerated deterioration to standard packaging machinery. The speed and ease of use make the Automatic Corrosive Filler an ideal solution for chemical plants producing acids, bleach, ammonia, as well as food plants filling aggressive brine solutions.
Brief Introduction
This gravity type filling machine is special made for filling corrosive liquid such as bleach, sulphuric acid, 84 disinfectant, gel water, toilet cleaner etc.
The machine is made by in-line structure , filling head quantity can be custom-made according to different production capacity such as 6/8/10/12/16 /20 heads.
The filling volume is controlled by filling time, with weight feedback of each filling nozzle to PLC to assure good filling accuracy.
All product contact parts is made with strong plastic material to avoid corrosion.
Features:
Heavy duty plastic construction for filling corrosive liquid
Filling range from 100-5000ml
Separate electric box away from filling area for better protection
Liquid receive tray is available in case any dripping from filling nozzle.
Angled filing nozzle for filling angled neck bottles(Optional Item)
No bottle no fill.
Controlled by PLC and operation through touch screen.
Easy change over to different size bottles.
Quick-install connecting parts , it is easy to disassemble and clear machine.
Main Parameter:
Nozzle Number
PCS
6
8
10
12
Filling volume
Ml
100-5000ml
Production capacity
Bottle/h
1000-3000pcs(Depends on filling volume)
Quantitative error
%
100-1000ml:≤±2% , 1000-5000ml:≤±1%
Voltage
V
AC220V 380V ±10%
Consumed power
KW
1.5
1.5
1.5
1.5
Air pressure
MPA
0.6-0.8Mpa
Air consumption
M3/min
0.8
1
1.2
1.2
Corrosive products are dangerous to personnel and accelerate depreciation of capital equipment. Therefore, it is paramount that a filling machine design for these types of products control exposure of personnel to hazardous liquids and gasses. It is also important that materials of construction and other special design features be chosen to protect the buyer's investment. There are many examples of tragic accidents due to the lack of foresight in this regard. Moreover, machines not correctly built for these environments see major disrepair and decay of the machinery within 6 months.
Generally speaking, the time gravity filling machine is predominant in the corrosive chemical filling industry because of its simplicity of operation and the fact that it does not pressurize or recirculate these chemicals which can increase risk of exposure to personnel. Because the filling machine is used for corrosives that generally attack metal components, there are special design considerations for both materials of construction as well as fasteners in this time gravity filling machine.
Filling Machines for Corrosive Products
The default construction material for most filling machines, and packaging machinery in general, is usually stainless steel. Stainless steel is a sturdy, reliable material that will not be negatively impacted by most products or atmospheres. However, when projects include products such as acids, bleaches and other liquids that can eat away at steel and other metals, alternative materials will be used to prolong the life of filling equipment and prevent undue wear and tear on the packaging line.
The filling machine also stands apart from other packaging equipment, such as a rinsing or capping machine, in that it obviously interacts with the product more than the other packaging machines. The liquid filler must transfer the product through a pathway and into the bottle. For this reason, filling equipment is especially vulnerable to wear and tear caused by the product being packaged. Not only will the product be in contact with certain parts of the filling machine, but drips and accidental spills are more likely to occur at the filling machine than on any other location on the packaging line. For this reason, filling machines for acid, bleach and other corrosive products can be manufactured using HDPE.
These corrosive resistant filling machines, just like other filling machines, can be manufactured for nearly any production level in tabletop, semi-automatic and fully automatic models. The fully automated corrosion resistant machines include all of the features and options of the stainless steel fillers, but are simply built using the plastic material. Corrosion resistant filling equipment can be controlled with a PLC and easy to use touchscreen operator interface. Different filling principles, such as gravity or overflow, can be incorporated into the machine, which can use anywhere from two to sixteen fill heads to reach the necessary demands of production. Different indexing types can be used for the corrosion resistant filling machines, including pin indexing, starwheel indexing or even screw indexing.
Of course, automatic packaging machinery will also require automatic conveyors to move the containers through the various packaging stages. Most automatic corrosion resistant filling machines will also include an HDPE power conveyor for additional protection against packaging line breakdown or premature wear. The HDPE conveyor may also run the entire length of the packaging system to protect against spills or drips.
Other packaging equipment for corrosive products may still be manufactured using stainless steel, as the interaction will not include contact with the product. For extremely harsh products or environments, other HDPE equipment, venting options or custom solutions can be provided. If you are packaging a product that simply does not interact well with metals, do not give up on efficiency!