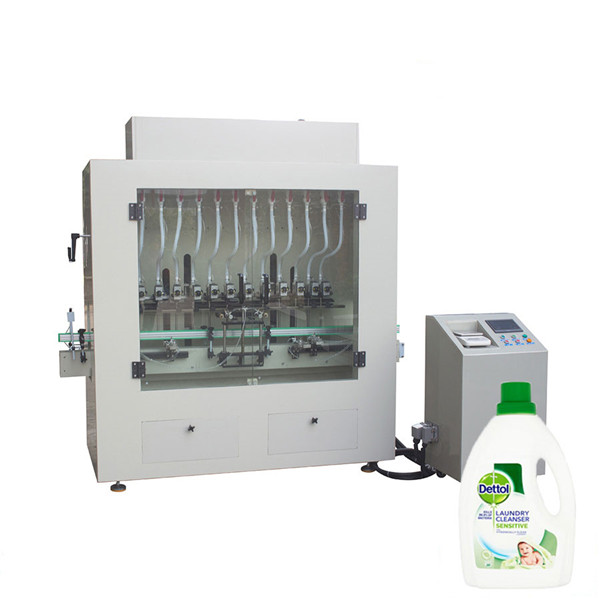 The speed and ease of use make theDisinfectant Liquid Cleaner Bottle Filler an ideal solution for chemical plants producing acids, bleach, ammonia, as well as food plants filling aggressive brine solutions.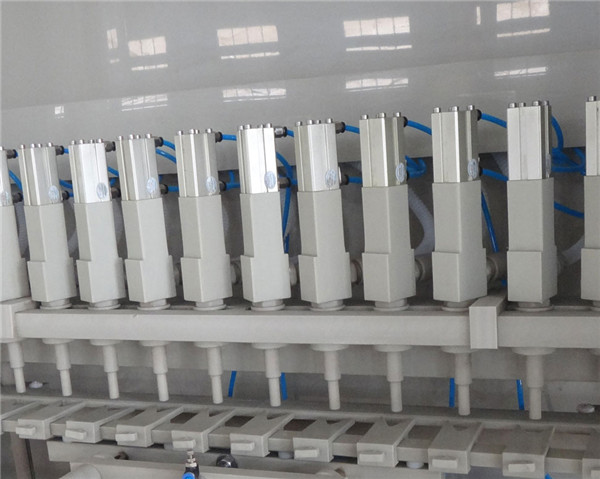 Brief Introduction
The series filling machine is a kind of full-anticorrosive (PLC) program controlled high-tech filling machine with photoelectric sensing and pneumatic actuating researched and developed by our company. The machine is specially used for filling strong corrosive liquids and liquids such as cosmetics that can't contact the metal. The parts of the machine that contact the liquids are all made of nonmetal anticorrosive materials. It is designed with submersible filling function, featured by accurate measurement and no bubble and drooping during the filing.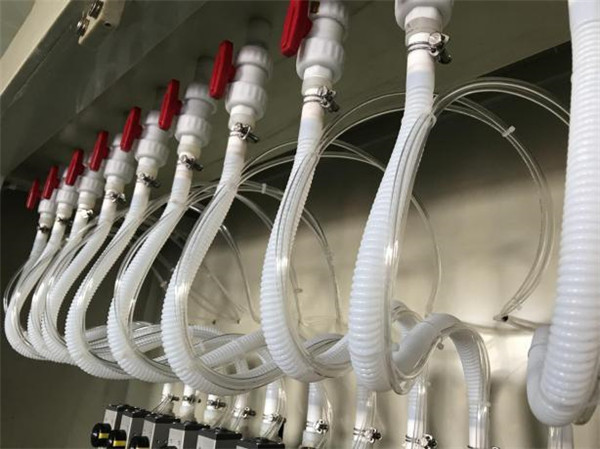 Features:
Heavy duty plastic construction for filling corrosive liquid
Filling range from 100-5000ml
The parts in the whole machine that contact the materials can be specially allocated according to product features. Therefore, it is suitable for filling most strong corrosive products. If it is added with PVC bucket, it will become an ideal cold wave fine filling machine.
If combined with lifting filling system with anti-dripping function, it will become an ideal filling machine for high foam water injection products.
It has such features as timed filling, no filling in case of no bottle, counting of filling volume etc.
It can be conveniently maintained without any special tools.
American anticorrosive pneumatic diaphragm pump is adopted for automatic material adding.
Main Parameter:
Nozzle Number
PCS
8
10
12
16
Filling volume
Ml
100-5000ml
Production capacity
Bottle/h
1000-6000pcs(Depends on filling volume)
Quantitative error
%
100-1000ml:≤±2% , 1000-5000ml:≤±1%
Voltage
V
AC220V 380V ±10%
Consumed power
KW
1.5
1.5
1.5
1.5
Air pressure
MPA
0.6-0.8Mpa
Air consumption
M3/min
0.8
1
1.2
1.5
This machine is used for the automatic low viscosity liquid filling in 500-4000ml, with the bottle diameter 60-130mm, bottle height 80-280mm. Changing into different models without tools. Easy cleaning, water can be directly used for machine cleaning.
The machine is a full corrosion-protecting high-tech filler integrating in the PLC program control, photo electricity transuding and pneumatic. The machine is specially used in the liquid filling of strongly corrosion liquid and cosmetics which can't touch the metal. The equipment's all parts touching liquid are manufactured with the non-metallic corrosion protection material, and designed the descending filling function. Measurement accurate, there is not bubble and drool as filling.