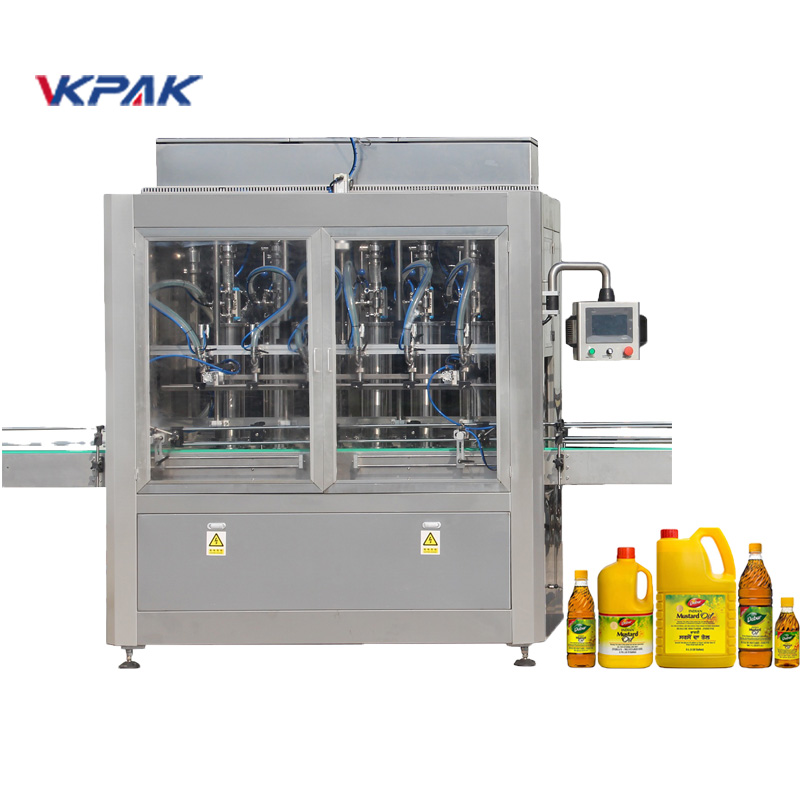 The filling system is driven by servo motor which assure high filling accuracy ,also easy to set filling volume on the touch screen directly.
Brief Introduction:
This Filling Machine is piston type filling machine which is suitable for filling varies viscosity fluid. The machine is made by in-line structure , filling head quantity can be custom-made according to different production capacity such as 6/8/10/12/16 /20 heads.
The filling system is driven by servo motor which assure high filling accuracy ,also easy to set filling volume on the touch screen directly.
It is widely used in the cosmetic, foodstuff, specialty chemical, pharmaceutical, and personal care industries.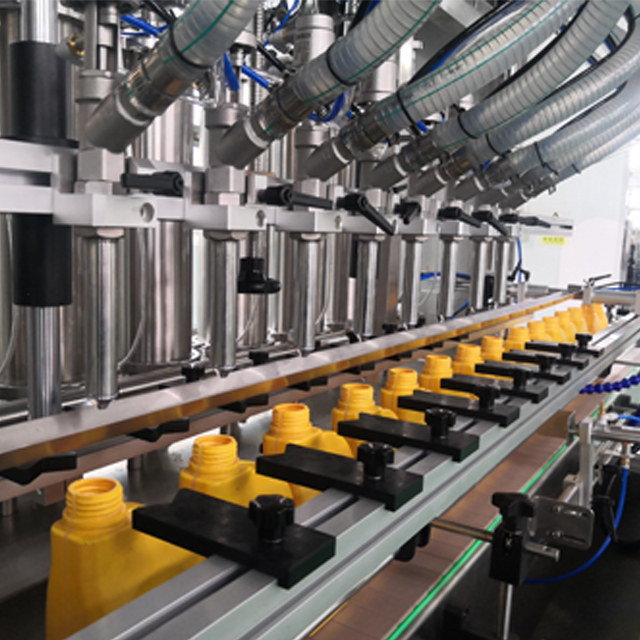 Features:
Made by high quality 304 Stainless steel, it is durable.
316 stainless steel product contact parts is available for optional according to product features.
Dosing system is driven by servo motor, it assure high filling accuracy.
Liquid receive tray is available in case any dripping from filling nozzle.
Diving filling head is available for optional for filling foamy liquid.
Can set different filling speed on one dose.
No bottle no fill.
Controlled by PLC and operation through touch screen.
No tooling needed to change over different size bottles.
Quick-install connecting parts , it is easy to disassemble and clear machine.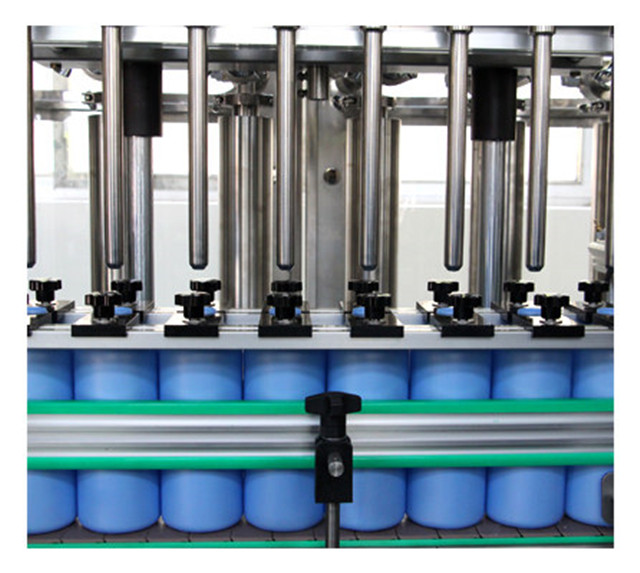 Main Parameter:
Nozzle Number
PCS
6
8
10
12
Filling volume
Ml
100-1000ml/ 250-2500ml/500-5000ml
Production capacity
Bottle/h
1000-3000 pcs/Hour ( Depends on Filling volume)
Quantitative error
%
≤±1%
Voltage
V
380V/220V, 50Hz/60Hz
Power
KW
2.5
2.5
2.5
2.5
Air Pressure
MPA
0.6-0.8
Air consumption
M3/min
0.8
1
1.2
1.2
At VKPAK, there are a number of different types of filling machines manufactured to handle different product viscosities, different fill sizes and other variations in packaging projects. The piston filling machine can solve many issues for products with particulates or high viscosity liquids, though it can also handle thin and medium viscosity products as well.
The hopper sizes can vary from project to project based on the size of the containers or fills. Not all piston filling machines, and in particular, the automatic piston fillers, will use a hopper from which to pull product. Automatic lines will likely include a tank or pull from a bulk source. The cylinder and piston combination are also available in different sizes to accommodate different projects. The speed with which the piston moves can be adjusted, different piston sizes can be used to meet volume requirements and even multi-piston, automatic filling machines can be designed for use with inline packaging systems. VKPAK piston fillers allow the operator to adjust the length of the piston stroke, which in turn adjusts the volume of product that is pulled in to the cylider with each fill cycle. This way a single piston size can handle a range of container sizes. While multiple strokes of the piston can also be used for larger fills, at some point the efficiency of using multiple strokes will become low enough that simply changing out the piston for large containers will be the better solution.
The nozzle used on any piston filler will be chosen to meet the needs of the particular project at hand. For instance, a product with large chunks of fruit or vegetables will not work well if a narrow nozzle is used to move product in to the bottles. On the other hand, a very large nozzle will be cumbersome with a small mouthed bottle. There is virtually no limit to the type of nozzles that can be used, including custom manufactured nozzles where special projects are concerned.