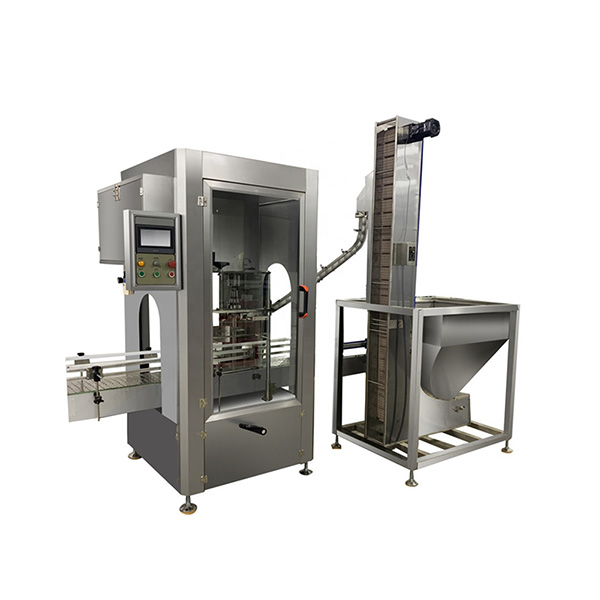 The machine adopts linear bottle feeding, PLC program control, double cylinder bottle positioning, can clear up and drop the cap automatically. Single-head machine in the double action lifting cylinder to grasp the cover firstly, then screw cap. The screw cap adopts the air expansion type catch cap, and is equipped with clutch device, the screw cap will not damage the bottle cap, the machine is suitable for the screw cap of the barrel with large diameter.
Feature
Multiple sets of servo motors are used to control all the movements of the screw cap head.
Use servo control the torque without damaging the caps
The whole machine is made of stainless steel, and the design is safe and beautiful.
The belt conveyor is adopted to supplement the bottle cap, the width of conveying can be adjusted according to the bottle caps, and it can fix the bottle caps of various sizes at the same time.
Can add Aluminum-free foil eliminating device.
The fixation of the bottle is completed by the bottle clamping belt on both sides, and the belt is controlled by the servo motor.
The bottle moves speed matched with the capping head, which is done by PLC automatic.
The capping head can be disassemble independ-ent,when change the cap size,you can change the capping head to fix new productions.
Technical parameters
| | | |
| --- | --- | --- |
| No. | Item | Technical Data |
| 1 | Capacity | ≤1500 Bottles/hour |
| 2 | Suitable Bottle Diameter | ≤320(L)*220(W)mm |
| 3 | Suitable Bottle Height | 250-450mm |
| 4 | Air Pressure | 0.6-0.8Mpa |
| 5 | Power | 2KW |
| 6 | Voltage | 220V/380V 50Hz/60Hz |
| 7 | Weight | 750KG |
| 8 | Dimension | 2000*1300*2000MM |
Main Configuration
| | | |
| --- | --- | --- |
| 1 | Touch Screen | Kinco |
| 2 | PLC | Mitsubishi |
| 3 | Variable-frequency Drive | Schneider |
| 4 | Sensor | Optex / Panasonic |
| 5 | Servo Motor | Panasonic |
| 6 | Power Switch | Schneider |
| 7 | Solenoid valve | AIRTAC |
| 8 | Air cylinder | AIRTAC |