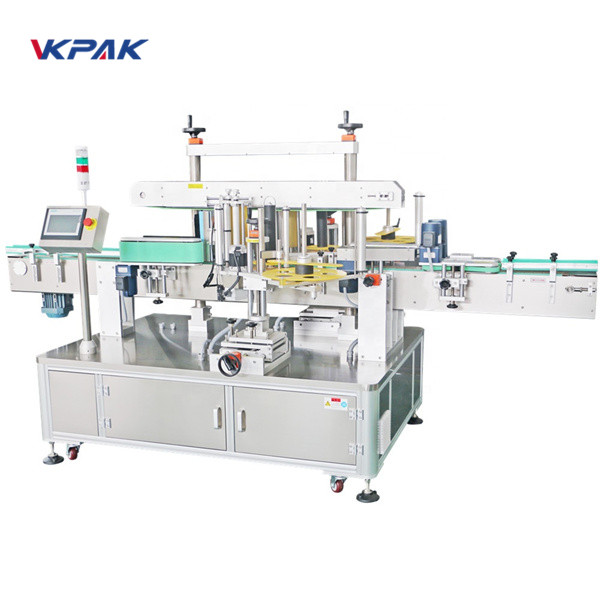 Application:
*For all kinds of double side labeling, such as flat bottle, cosmetics boxes, plastic cap labeling, etc.
*Widely used in food, cosmetic, chemical, pharmaceutical and other industries.It can work alone or connect to production line.
*Date printer can be added,which can print production date, batch lot and expiry date while labeling.
*Support customization.
Labeling speed
120-250b/m
(Adjustable speed, depending on bottle size and label length)
Labeling accuracy
+1mm(depends on products Characteristics, hardness and trueness of the circle)
Bottle diameter
25-120mm
Object range
Height: 20mm ~ ~ 300mm (Can be customized according to customer requirements)
Label specifications
Height:10mm~~150mm  Length: 15~~300mm
(Special specifications can be customized)
Roll diameter
Φ76mm Outer roll diameter: Φ300(max)
Power supply
AC220V 50/60HZ 980W
Weight
280KG
Package Size
2800*1400*1400mm
The Two-Sided Front & Back Labeler provides an impressive yet cost-effective solution for pressure sensitive adhesive label application. This Labeler is suitable for various one-sided or two-sided labeling. An optional wrap station is offered for wrap labels on round bottles.
The filled and sealed or Empty bottle received from the Turn Table is conveyed from the Conveyor and on the same conveyor one bottle separator attachment is provide to separate the bottle from continuous movement also two pressing device is provided .on conveyor to straight the bottle & after straight position top holding pressing device is pickup the bottle in original position after pick up the bottle by top pressing device side pressing device release bottle during releasing portion a sensor provided to sense the product after sensing the sensor give command to operate steeper or servo motor to release label when one label is stick the gap sensor give command to stop the servo or stepper during releasing of label provision of brush to press the label & remove the air between label & bottle after completion of the cycle one operation of labeling is finish & conveyor bring the bottle for next operation.
Features
1. Labeling height and angle are adjustable.
2. Power spacer separates containers into fixed space.
3. Conveyor belt and labeling speed are adjustable.
4. Top Hold-Down Conveyor supports containers stand vertically.
5. Controlled by Microprocessor system with LED screen.
6. Labeling counter, easy to manage.
7. Specifically selected sponges flap labels after labeling to make labels attached perfectly.
8. Advanced detection system makes precise labeling.
9. Labeling speed is synchronized with conveyor belt.
10. The conveyor belt meets MCC standard.
11. Emergency stop button.
12. All are made of stainless steel and high quality aluminum alloy.
Automatic Double Side Flat Bottle Sticker Labelling Machine Model LI-BSL 2S is one of the most user friendly. Suitable for applying Front, Back or Side Labels on Flat / Oval / Square / Round shape containers with output Up to 100 Labels per minute depending on products Shape/Size and label size. Automatic Product Alignment system synchronised with top holding belt system. The Machine incorporates with modern sophisticated Micro Processor Control Label Dispensing system with user friendly Sensing system for Label and Product. Machine also available with Optional Wrap-Round System makes it more flexible to use for Applying Single Side Label on Flat Bottles or Applying Wrap Round Label on Round Products.
The most versatile, elegantly designed linear labelling machine to meet the needs of major users of modern packaging lines, requiring high efficiency with speed, accuracy and durability. Easy to use adjustments, requiring a minimum tool or change of parts. Machine can be designed and supply with Robotised Twin Moving Pocket System or Twin Feed Worm System ensuring perfect alignment of bottles on conveyor for precise labelling application. Selection of Product Stabilizing system is depending on Product Shape, Size and required speed.
Bottle Sticker Labelling Machine has its own unique single point synchronised speed control system. The Inbuilt Automated Label Length detection systems eliminates any need for manually feeding and storing of Label Length data in memory and retrieving the same every time for change of Label Size & re-starting the machine. The System thus saves valuable time, avoiding machine-down time, and helps achieve higher production. Machine can be supplied with Optional Toughened (Tampered) Glass or Acrylic Safety Cabinet. Machines having required all basic features as a standard fitment to match the current market needs and also saves cost and time LI-BSL 2S. Series also available with another Model. Twin suitable for High Speed Double Side Flat Bottle Labelling with speed up to 250 Labels per minute.
Machine can be designed especially for applying Double Side Flat bottles as well as body / wrapround labels on Round Bottles as a Optional Features.