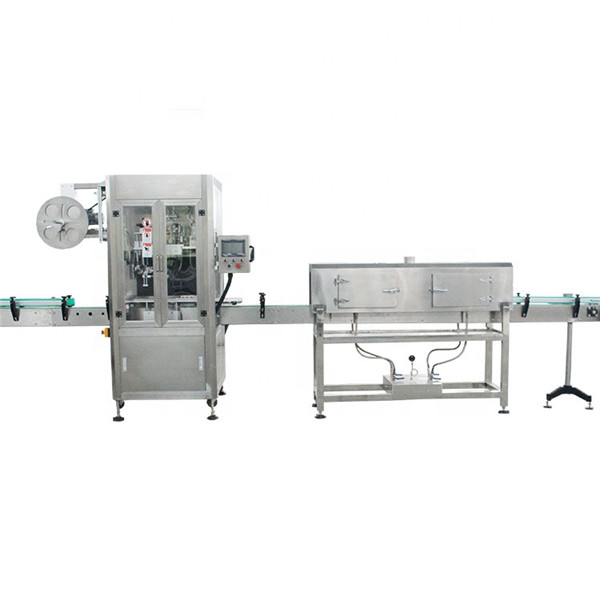 This machine adopts international advanced technology, cover the circle label on the bottles. And then hot shrinking to fix on the position which bottle body designed. It is controlled by micro-computer, automatic detection and position.
Equipped with Touch Screen HMI for easy operation
Stainless Steel Construction and transparent safety doors.
Photocell sensor detection ensures smooth and stable cut length accuracy.
Exclusive cutting blades feature maximum rigidity, smooth motion and double blade life.
Meets cGMP requirements
PLC controls
Stepper drive film feed system
Stainless steel enclosure
Thin gauge film capability
Quick and easy container size changes
Options: High Efficiency Shrink Tunnell for precise label shrinking
| | |
| --- | --- |
| Import Power | 3.0KW |
| Import Voltage | ∮3, 380/220 VAC |
| Capacity(production speed) | 150 bottles per min |
| Dimension of Host Machine (mm) | L2100 × W850 × H2000 |
| Applicable Diameter Container (mm) | φ28 mm ~ φ120 mm |
| Applicable Label Length (mm) | 30~250 mm |
| Applicable Thickness Label (mm) | 0.03~0.13 mm |
| Applicable Inner Diameter of Paper Tube | 5''~10'' |
Improvements in printing technology are making shrink sleeve equipment (shrink banding) a more viable option for many products, especially for any unusual shaped container. A full-body sleeve applicator works by opening, cutting and applying a tube stock material that lies flat on the roll. Obviously the cut point is determined by a registration mark on the printed tube.
The tube stock is made either of two ways: extruded or seamed. Extruded stock has no overlap material, thus no seam.
Full-Body Sleeve Applicators can also be used to apply neck bands, also known as shrink banding.
After application the material is shrunk onto the container by use of a heat tunnel or steam tunnel. Steam tunnels are utilized for high speed lines or when the shrink parameters need to be precise.
Our experts can help you determine if shrink sleeve equipment is right for you.
Sleeve label applicators provide high production speeds for most full body shrink sleeve applications in the pharmaceutical, beverage, and nutraceutical industries. Speeds in excess of 300 cpm are possible on a single head. A twin head model can run over 600 cpm.
1) Sleeve Labeling Machine is custom built to meet the exacting demands of manufacturers and suppliers. It can be used stand alone or integrated in-line and matching filling equipment speeds.
2) It is built upon a framework of seam welded, food grade stainless steel section. This solid foundation keeps movement and vibration to an absolute minimum to ensure consistent, accurate labeling.
3) Unit cutter head plane design in China which apply to the container of ∮30 mm—∮130 mm. you never need to change or debug it.It also has unique light touch human-machine screen,that means,auto search original location as well as safety and convenience which is ahead of other congener products.
4) Double shrinking label feed plane, reasonable height which is convenience to fix the label; micro-computer auto figure which avoid enactment and adjustment. you only need to press it lightly ,the label will detect and locate automatically.The change of label is quick and convenience, besides,the cut place is absolutely exact.
5) The newly designed cutter stepper motor which speed is high ,action is exact,the cut is in order and the shrinking is beautiful.This design cooperate with the label synchronized location structure enable the precision of cut location within 1mm.